We're thrilled to introduce you to 'Eventide Steps Inside', our monthly room series!  To end September with a bang, we're highlighting Walker's room.  Walker's mom, a DIY Queen named Arin was kind enough to give us the inside scoop!  Let's take a step inside Walker's room together.  Read on, friends...
_________________________________________________ 
Renovating, decorating, organizing, redecorating, reorganizing... it's nothing new to Arin and her husband, Sam, who live in St. Louis, MO with their 4 kids.  They bought and subsequently renovated their historic 1930's house making a concerted effort to update while also keeping a bunch of unique and charming details alive.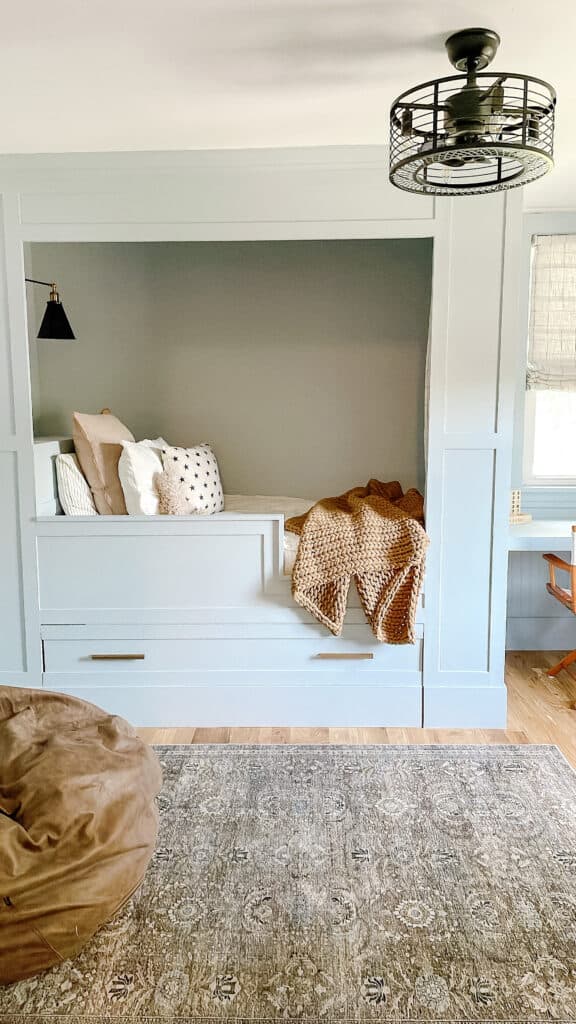 We recently chatted with Arin about the stunning big boy room belonging to her 5-year-old son, Walker.  His two older siblings have had their rooms redecorated in the last 2 years and recently it was his turn!  Arin, the brains behind the renovation and design of his room, said "I knew I wanted blue in his room, and he really wanted bunk beds, but we settled on a built in single bed instead. Walker is my messy kiddo so we tried to give him space to be creative and play, but also keep the room very simple so there was less to clean when needed."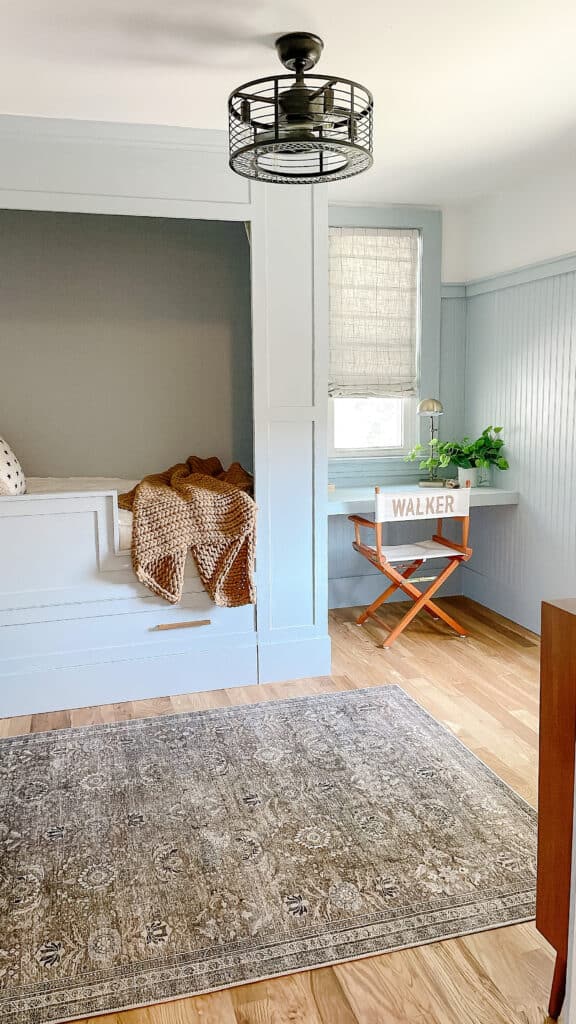 Walker's light blue ('Fresh Idea' by Sherwin Williams - HGTV Home)  bedroom is classic yet playful.  With light blue beadboard on the majority of each wall, the eye is immediately drawn all around the room.  The light blue trim adds more of a pop and makes the light blue color even bolder and more stunning.  Arin mentioned to us that the gallery wall, the built-in bed, and the desk chair are three of her favorite parts of the room - all so unique!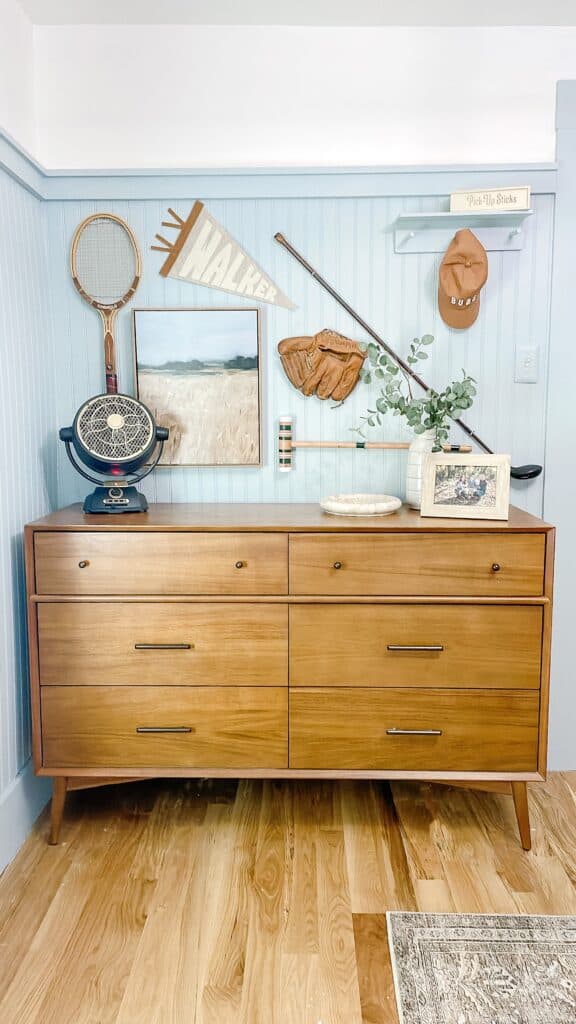 The gallery wall features thrifted vintage sports equipment and is also where Walker's Custom Name Pennant is displayed.  With the beige background, cream letters, and chestnut siding, his pennant fits perfectly among the other pieces hung there.  When deciding on the font for the pennant, Arin mentioned "I loved the block letters - they just feel like Walker to me."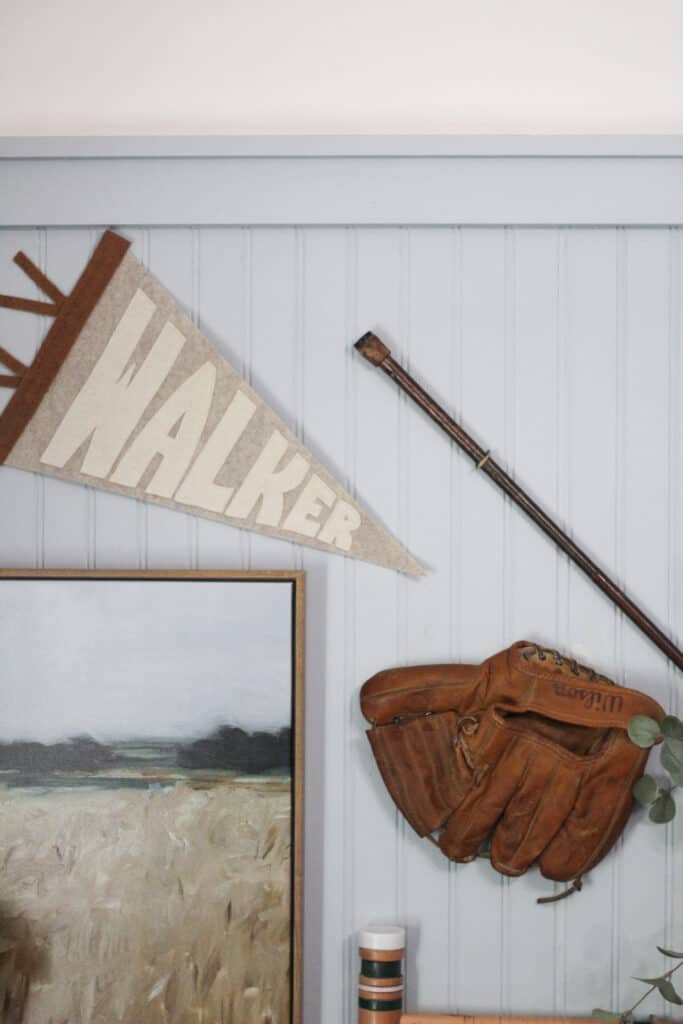 From the desk area, to the built-in bed and the dresser with gallery wall, light blue and chestnut are a big part of the underlying color scheme.  Arin stated, "I like simple and clean with pops of normally only 1 or 2 colors in a space and his room is just that."  It's a pristine space that is deeply satisfying to take in visually!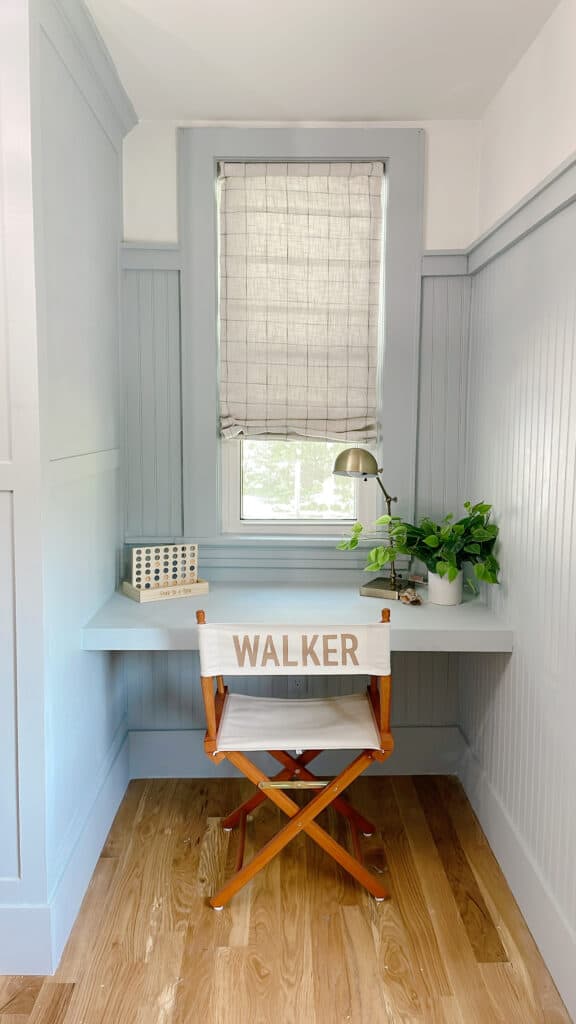 And finally, on Walker's name: "We honestly just loved the name. I love fairly masculine names that cannot be shortened. We paired it with a family name for his middle name."
Check out Arin's website and instagram feed for decor-oriented inspiring posts and photos.