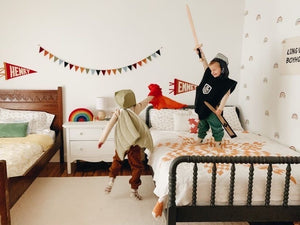 For Leah Gaeddert, a small town mom of three from the midwest, thrifting and upcycling is the name of the game for her home decor.
Although her family has only been in their current home for just over a year, the charm of her vintage furniture makes it feel like she has been spending years curating pieces to perfectly fit in her son's shared room.
---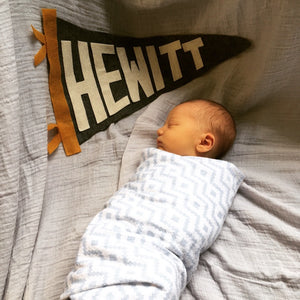 Making and selling pennants wasn't even an ounce of a thought at this point - never ever even crossed my mind. I mean, really though, I didn't even own a sewing machine...
...It started to become my routine on most days. When the sun began to go down, the pennants would come out and cover the dining room table.   
---
We're thrilled to introduce you to '
Eventide 
Steps
 Inside', our monthly room series!  To end September with a bang, we're highlighting Walker's room.  Walker's mom, a DIY Queen named 
Arin
 was kind enough to give us the inside scoop!  Let's take
 a step inside 
Walker's room together.  Read on, friends...